Mercedes-Benz A-Class Lease & Finance Specials
The Mercedes-Benz brand has been known for its class, comfort, sophistication, style, and performance for as long as it has been manufacturing luxury vehicles. With the all-new A-Class, the combination of comfort, design, power, and innovative technology creates a vehicle worthy of the Mercedes-Benz brand as well as your investment.
We are currently updating our monthly offers. Please check back shortly for updates.
In the meantime, here are some links that you might find helpful:
Comfort in the Cabin of the Mercedes-Benz A-Class
Riding in the cabin of the Mercedes-Benz A-Class is not simply a mode of transportation from one place to another. Inside the car, it is roomy and refined including power front seats with memory, has dual-zone, double-filtered climate control, and a panorama roof. Interior options also include ventilated seats, a hands-free trunk opener, and 64-color ambient cabin lighting to ensure you have the most comfortable and enjoyable ride possible.
Mercedes-Benz has also included dual 7-inch displays (optional 10.25-inch displays are also available for a wider view) so you can stay connected at all times in your A-Class and be able to have a clear view of the instrument panels, navigation, entertainment, and more. Circular dash vents also connect to the optional 64-color cabin lighting.
Design and Style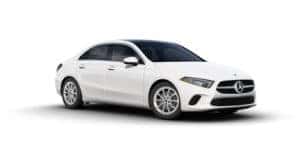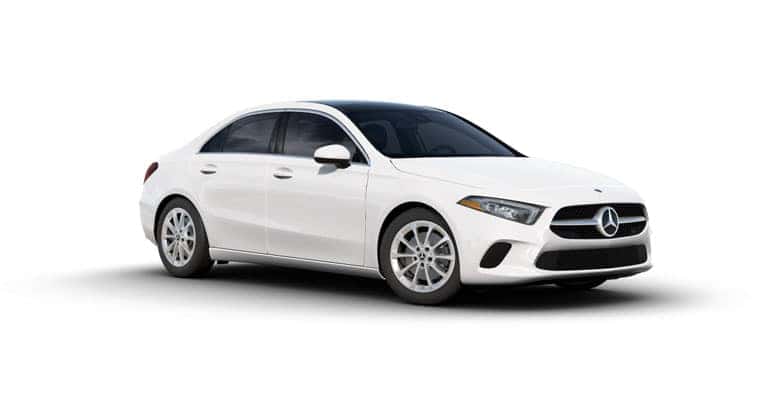 When you invest in the Mercedes-Benz brand, you can rest assured that you will stand out among the rest of the vehicles on the road, especially with the sleek design of the A-Class. Driving the A-Class has a significant and special meaning, so we have ensured that every aspect of the A-Class's design earns the Mercedes-Benz Star. The A-Class sedan incorporates a toned physique with iconic details. It has a wide, subtly forward-leaning grille, a clean, aerodynamic design to cut through traffic, and LED lighting on the inside and out to make sure to get you noticed. The available active LED headlamps (pioneered by Mercedes-Benz) will definitely help you stand out as well.
Standard 17-inch wheels, as well as 18-inch and 19-inch wheel options, will keep your A-Class on the road and moving. Two-wheel options come with AMG®️ bodywork, a chrome diamond-block grille, sporty chassis, and cockpit items. The black accented Night Package delivers two others as well.
A-Class Power and Performance 
Mercedes-Benz is also known for its athletic performance, and the A-Class demonstrates its athleticism and agility with its turbo power, seven speeds, four driving modes, and three suspension options. You will definitely enjoy the 188 horsepower and 221-lb-ft of torque in the A 220 and the all-wheel-drive A 220 4MATIC® sedans.
Four driving modes–ECO, Comfort, Sport, and Individual–are available to you through the Mercedes-Benz DYNAMIC SELECT. With DYNAMIC SELECT, you can switch between the four driving modes and alter the shift points, throttle response, and steering feel. Additionally, the AMG® version will match your sporty, athletic mood with its lower ride height.
A-Class will always handle well thanks to the lightweight, agile, variable-torque 4MATIC® because it can tackle the harshest winter weather as well as quick turns and cornering. The A 220 4MATIC® will automatically send power from the front to the rear wheels in response to available traction to ensure the safest driving experience. Independent suspension on all four wheels also adds to the A-Class's quick reflexes on the road.
Mercedes-Benz A-Class Technology
When advancements in technology are always available to you and are constantly improving your lifestyle, why should your vehicle be any different? The Mercedes-Benz user experience ensures that the technology in your A-Class is easy to use, natural, and intuitive. From touch controls on the dash, console, and steering wheel to adaptive voice command that learns your needs, you will always have the innovation you want. 
New advances in safety also give you the best ride experience possible by relieving some of the stress of driving. Change lanes with a simple tap of the turn signal, get assistance steering, stop-and-go pacing in traffic, and slowing for an offramp. Finally, if a crash is imminent, safety sensors will help protect your hearing before impact. Mercedes-Benz is always looking for the best ways to improve the driving experience while also protecting you, your family, and your investment.
Mercedes-Benz A-Class Lease and Financing Options in Freehold
At Ray Catena Freehold, our friendly and informative salespeople understand that meeting you and your family's needs are our number one priority. We want to ensure that you leave our lot in the Mercedes-Benz you have always wanted and are completely happy with your decision. Our sales team is happy to discuss each model and option available to help you make the best choice. 
We will also give you the details of our fantastic lease and financing options so that you feel confident and satisfied with your vehicle decision. Contact us today for more information and to schedule an appointment to test drive the all-new Mercedes-Benz A-Class and see why it is the right sedan for you.