" ], "areaServed" : [ "[X]", "[X]", "[X]" ], "hasMap" : "[https://www.google.com/search?q=ray+catena+freehold&npsic=0&rflfq=1&rlha=0&rllag=40280460,-74295410,351&tbm=lcl&ved=2ahUKEwjD9Onm9ofkAhUBd6wKHYuEC4AQtgN6BAgKEAU&tbs=lrf:!2m1!1e2!2m1!1e3!3sIAE,lf:1,lf_ui:10&rldoc=1#rlfi=hd:;si:;mv:!1m2!1d40.2840025!2d-74.2952074!2m2!1d40.2769183!2d-74.2956138!3m12!1m3!1d3440.1144062564317!2d-74.29541059999998!3d40.280460399999996!2m3!1f0!2f0!3f0!3m2!1i10!2i217!4f13.1;tbs:lrf:!2m1!1e2!2m1!1e3!3sIAE,lf:1,lf_ui:10]", "name": "[Ray Catena of Freehold]", "brand" : "[Mercedes-Benz]", "priceRange" : "[$$$$$]", "address": { "@type": "PostalAddress", "streetAddress": "[4380 Route 9]", "addressLocality": "[Freehold]", "addressRegion": "[NJ]", "postalCode": "[US]", "addressCountry": "[07728]", "description": "[The Ray Catena Auto Group considers it an honor to serve their customers. For nearly 60 years, Ray Catena has held steady to a core philosophy of putting the customer first. In turn, he has built a network of 20 dealerships and service centers on this foundation. Mr. Catena's New Jersey and New York luxury car dealerships represent some of the finest automotive brands on the market today â€" Mercedes-Benz, Lexus, BMW, Porsche, Land Rover, Jaguar, Infiniti, Mini, smart, Sprinter, Audi, Maserati, and Alfa Romeo.]" }, "url": "[https://www.raycatenafreehold.com/]", "telephone": "[7325540850]", "contactPoint": [ ], "logo": "[https://www.raycatenafreehold.com/wp-content/themes/DealerInspireDealerTheme/images/logo-new.png]", "image": "[https://2729a2503cf8bc220de7-a3f68299b34976299e0b8c4e9fb8d959.ssl.cf1.rackcdn.com/thumbnails/WDD3G4FB1KW022927/d806fb1b8f2184bc652a4b4367acd6cd.jpg]" } ] }
The All New 2019 Mercedes-Benz A-Class Sedan
A glimpse into the future of compact vehicles.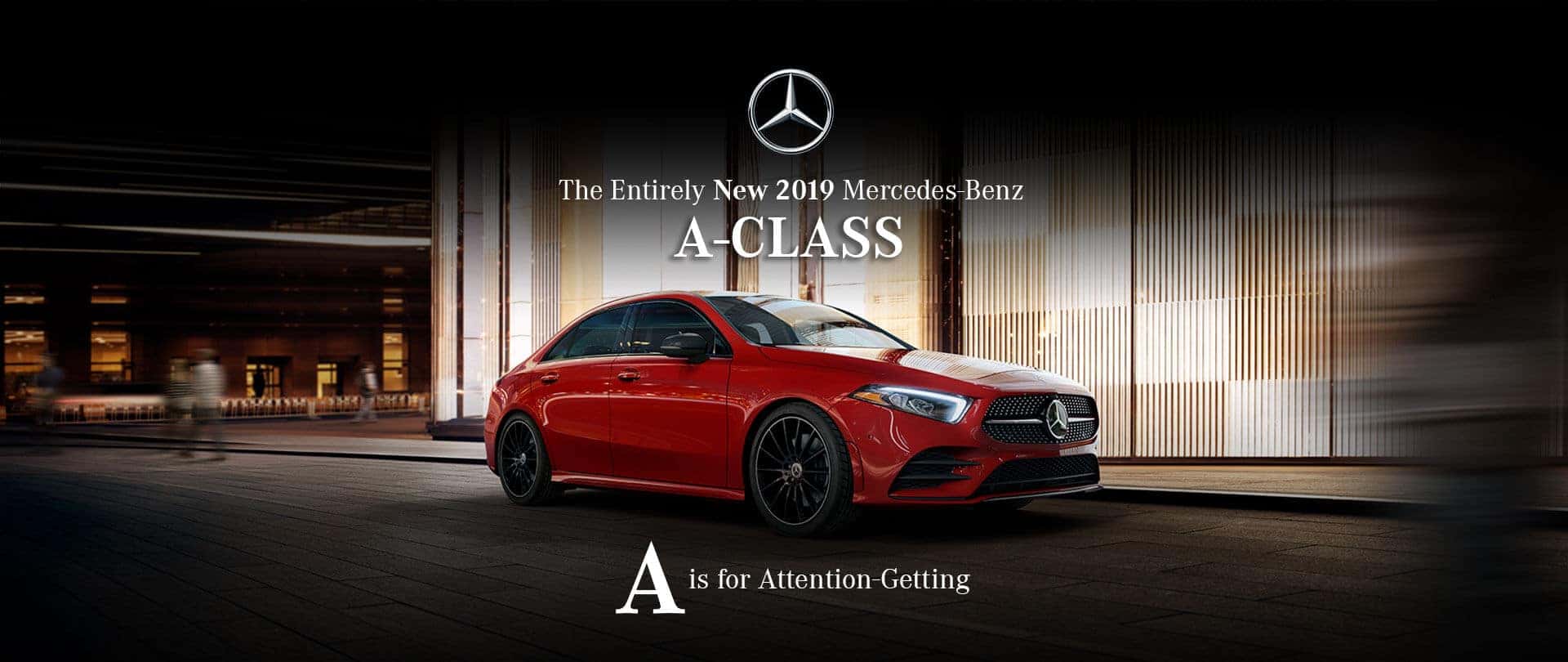 2019 A 220 4MATIC® Sedan
Lease for $369 per month /36 months.
$4,262 due at signing. $0 security deposit. Taxes, licensing, registration fees additional.
The family of compact cars from Mercedes-Benz continues to grow with the all-new 2019 Mercedes-Benz A-Class Sedan.
The new A-Class is as youthful and dynamic as ever, but grown-up and comfortable like never before. It completely redefines modern luxury in the compact class, and revolutionizes interior design. Technologically the new A-Class not only takes first place thanks to MBUX – Mercedes-Benz User Experience: it also offers a number of functions that were previously the preserve of the luxury class. And although Mercedes-Benz has retained the sporty appearance, the utility value has increased.
MBUX: ability to learn thanks to artificial intelligence.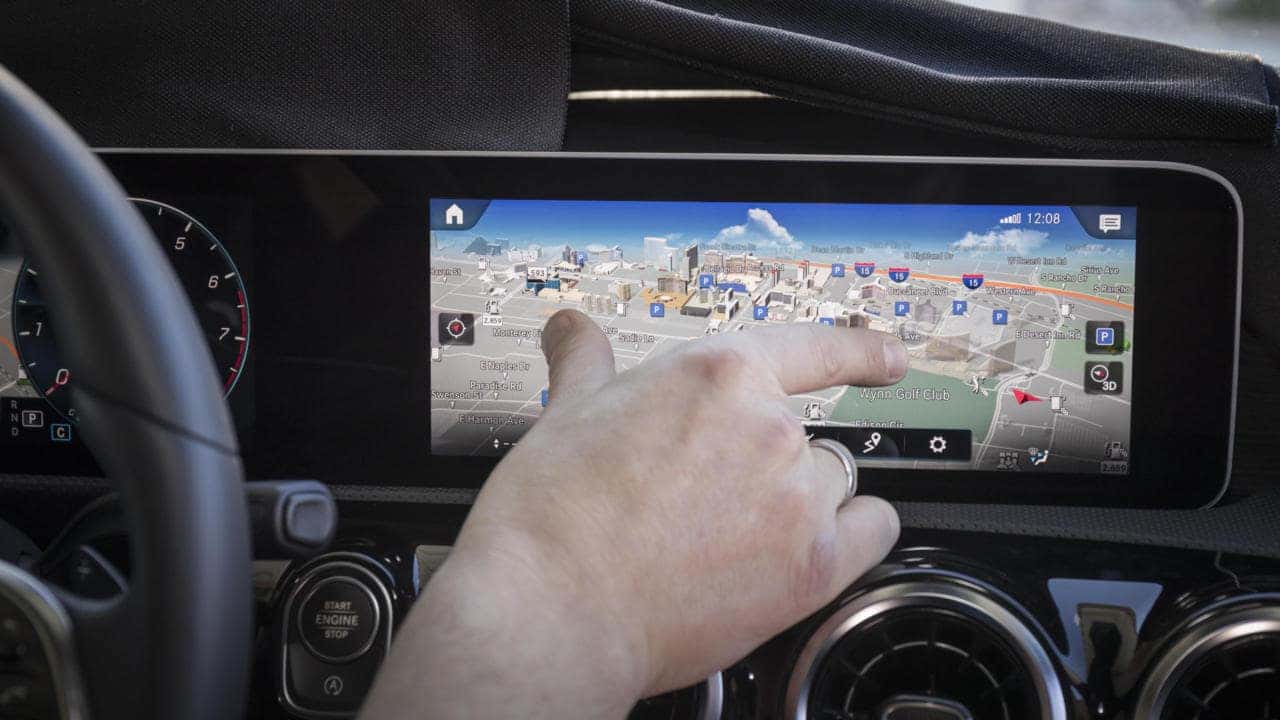 The name MBUX for the new infotainment system signals that the user experience (UX) is to the fore. A unique feature of this system is its ability to learn thanks to artificial intelligence. MBUX can be individualised and adapts to suit the user. It thus creates an emotional connection between the vehicle, driver and passengers. At the same time updates "over the air" are possible. It also heralds a new era at Mercedes me Connectivity.
Its further strengths include the high-resolution Widescreen Cockpit with touchscreen operation, navigation display with augmented reality technology plus intelligent voice control with natural speech recognition, which is activated with the keyword "Hey Mercedes".
MBUX is used in the entire new compact car generation from Mercedes-Benz and entered series production in spring 2018 in the new A-Class. Its highlight is the comprehensive touch operation concept – the combination of a touchscreen, touchpad on the centre console and Touch-Control buttons in the steering wheel. In addition to the intuitive operating experience, less driver distraction is another advantage.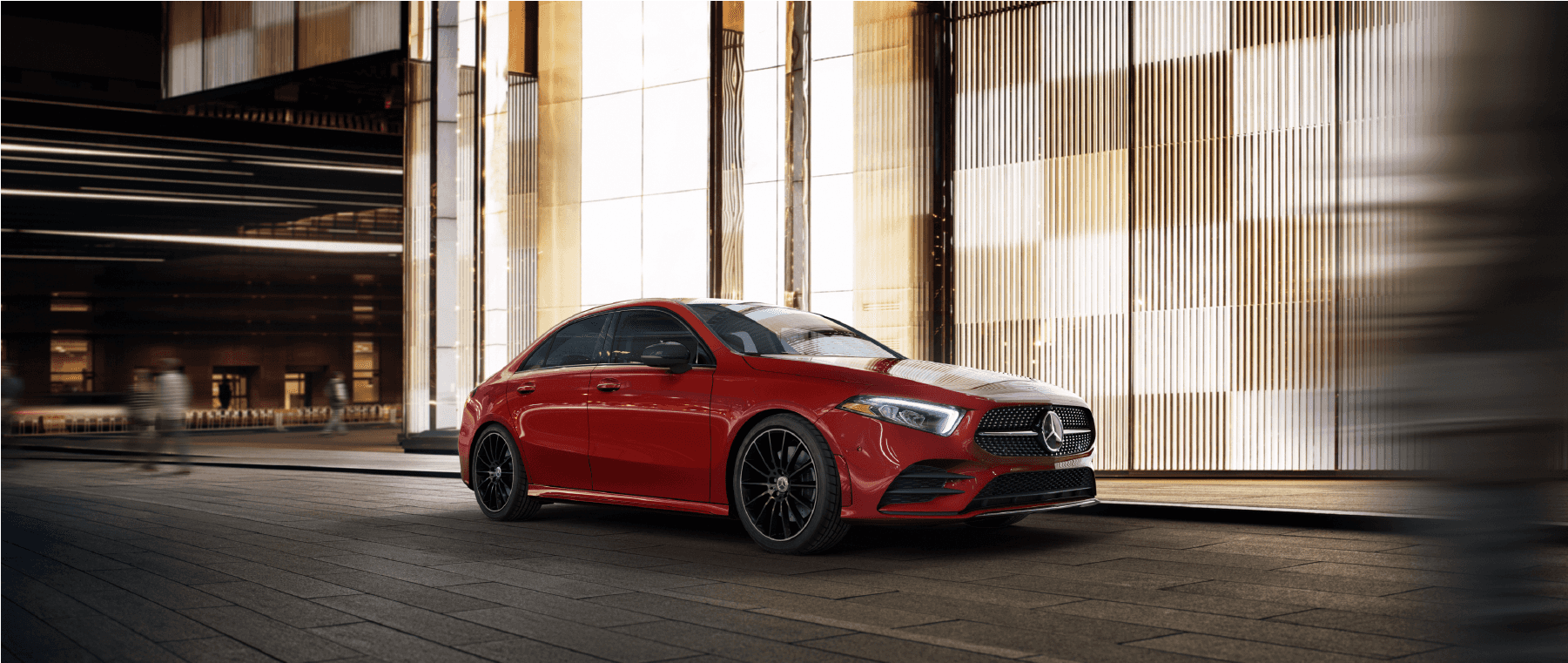 The interior of the A-Class is a completely new departure, and revolutionizes the compact class from the inside with a new feeling of spaciousness. The unique architecture is particularly marked by the avant-garde design of the dashboard. For the first time a cowl above the cockpit has been completely dispensed with. As a result, the wing-shaped main body of the dashboard extends from one front door to the other with no visual discontinuity. The standard widescreen cockpit is completely free-standing. The sporty air vents in a turbine-look are another highlight. The front seats have comfort features available from higher segments, including seat climate control, massage function and multi contour seat. The newly designed 3-spoke steering wheel, door handles, center console and seats follow a modern design idiom.
2.0L inline-4 turbocharged engine
188 hp and 221 lb-ft of torque
7-speed Dual-Clutch Transmission
Available 4MATIC® variant
Mercedes-Benz User Experience (MBUX) with Voice Control multimedia system based on artificial intelligence
7-inch Touchscreen Multimedia Display plus available 10.25-inch versions of the same
LED headlamps and taillamps
Standard smartphone integration with Apple CarPlay and Android Auto
Panorama roof
Optional ambient lighting with 64 colors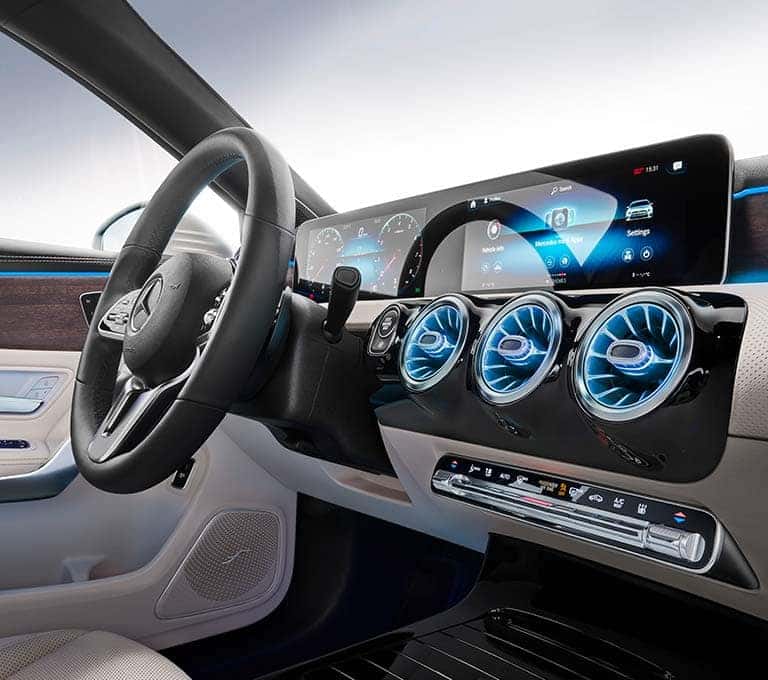 Price incl. all costs to be paid by a consumer except for, licensing costs, registration fees & taxes. MSRP: $36,075. Due at signing, $369 1st mo. pymt, $2,599 cap cost reduction, $499 DOC fee & $795 acquisition fee. Lessee resp. for maint. & excess wear & tear. Offer incl. 30,000 mi. w/excess @ 25¢ per mi. Ttl pymt/ttl cost/purchase opt: $13,284/$17,177/$21,645. To qual. buyers w/approved credit thru MBFS. Details @ 1-800-f-o-r-Mercedes.
Saved
Saved Vehicles ×
SAVED VEHICLES
You don't have any saved vehicles!
Look for this link on your favorites:
Once you've saved some vehicles, you can view them here at any time.